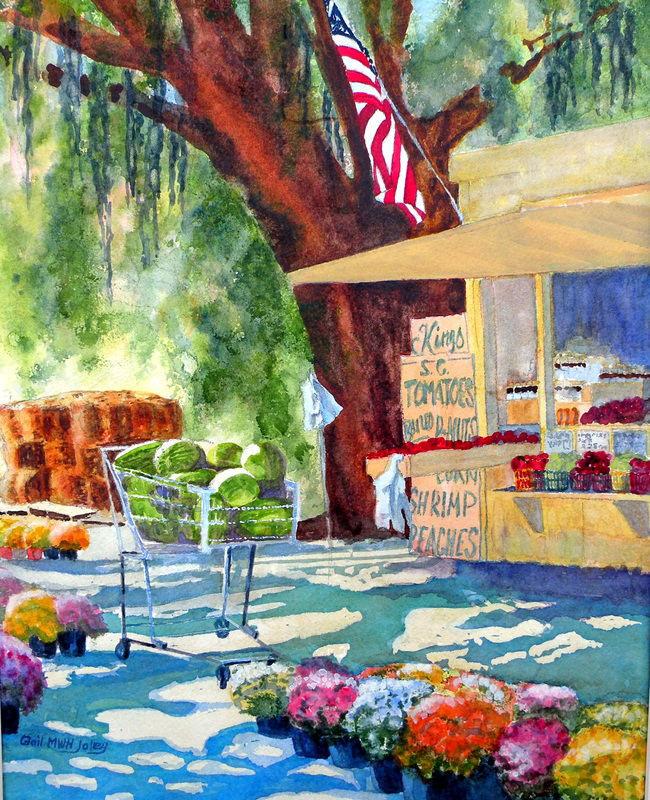 Title: 'King's Produce Stand'
From Original Watercolor
16" x 20" matted prints available, $50 each plus shipping

Artist Gail Joley paints in transparent watercolors, producing paintings that are luminous and colorful. She primarily paints landscapes, seascapes, vegetation, florals and birds of southern coastal areas where she lives. Included also are European scenes inspired by her regular travels abroad. Original watercolors are available, and she also paints by commission.
Giclee reproductions, finely tuned photographs of original paintings by a professional photographer printed on heavy Fine Art Paper, are also available. Giclee reproductions are available in a range of sizes. A sample size and price are provided.
Notecards from her original watercolors are available in packs of 6 notecards (size 5" x 8 ½") for $20. Packages feature Coastal Scenes, European Scenes or Florals and come in a set of 6 assorted cards of each topic.
Contact Gail at
c.gjoley@earthlink.net
or call her at 843-237-9921.